How to get basic information from Graid log collection tool(Linux)?#
Environment
RAID Model: All

Issue
This script collects config and logs information that graid support requires to troubleshoot issues effectively.
Resolution
1. Download the log collection script and make it executable:
chmod +x ./
graid_log_script_0.0.10.sh
2. execute the log collection script on the machine and it will generate a "
graid_log_[timestamp].tar"
file and a log_folder named "
logs-[YourHostName]-timestamp
"

3. upload the tar file to the ticket
4. Open the file which named "basic.log" under the "
logs-[YourHostName]-timestamp" folder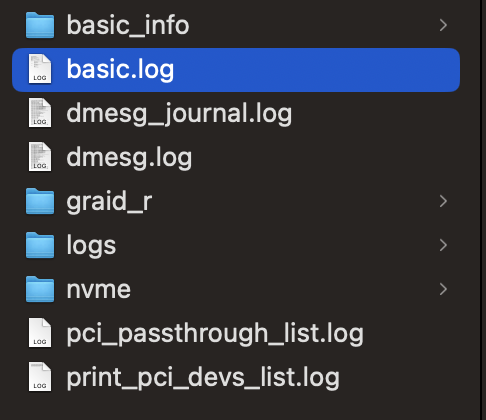 5. basic.log show all basic information we need, please fill it into the ticket.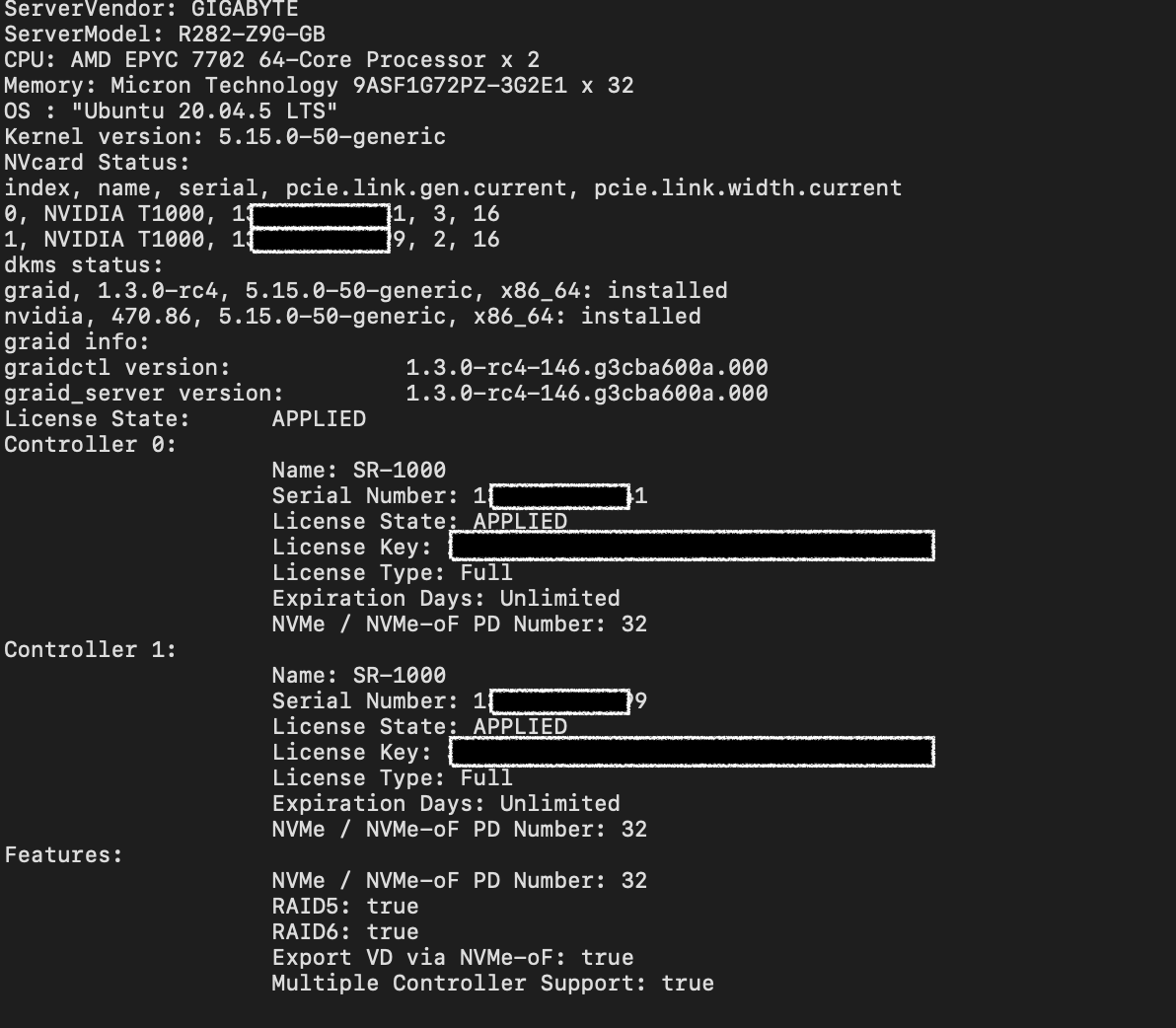 6. check graid_log_collection version, now should be "Version: 0.0.10-20230731"
Related Articles

How to get basic information form Graid log collection tool(Windows)?#

Environment RAID Model: All Host Hardware: AMD/Intel/Supermicro model etc Operating System: Linux Issue This script collects config and log information that graid support require to be able to troublshoot issues effectively. Resolution 1. Download ...

GRAID SupremeRAID OS Support List#

Linux Supported Operating Systems Linux Distribution x86_64 AlmaLinux 8.5, 8.6, 8.7 (kernel 4.18) CentOS 7.9 (Kernel 3.10 and 4.18), 8.3, 8.4, 8.5 (Kernel 4.18) Debian 11.6 (Kernel 5.10) openSUSE Leap 15.2, 15.3 (Kernel 5.3) Oracle Linux 8.7 (RHCK ...

GRAID SupremeRAID Compatible NVMe Drives List#

Compatible NVMe Drives List The following NVMe drives passed Graid Technology Inc. qualification and can be used with SupremeRAID™. Graid Technology Inc. updates this list when new NVMe drives pass the qualification process. Compatible NVMe Drives ...